Posted by jamie on Jan 30, 2013
Our bonkers mates the Popes of Chillitown will at last release their debut full length album A Word to the Wise through Evil Uncle Records in March.
AWTTW mashes up all thier influences from Reggae, Ska, Punk Rock, Drum & Bass and Dub,  and, while the content can at times be serious, never loses its sense of fun.  You'll be jumping about like a crazy thing, and waving all your fists around at once.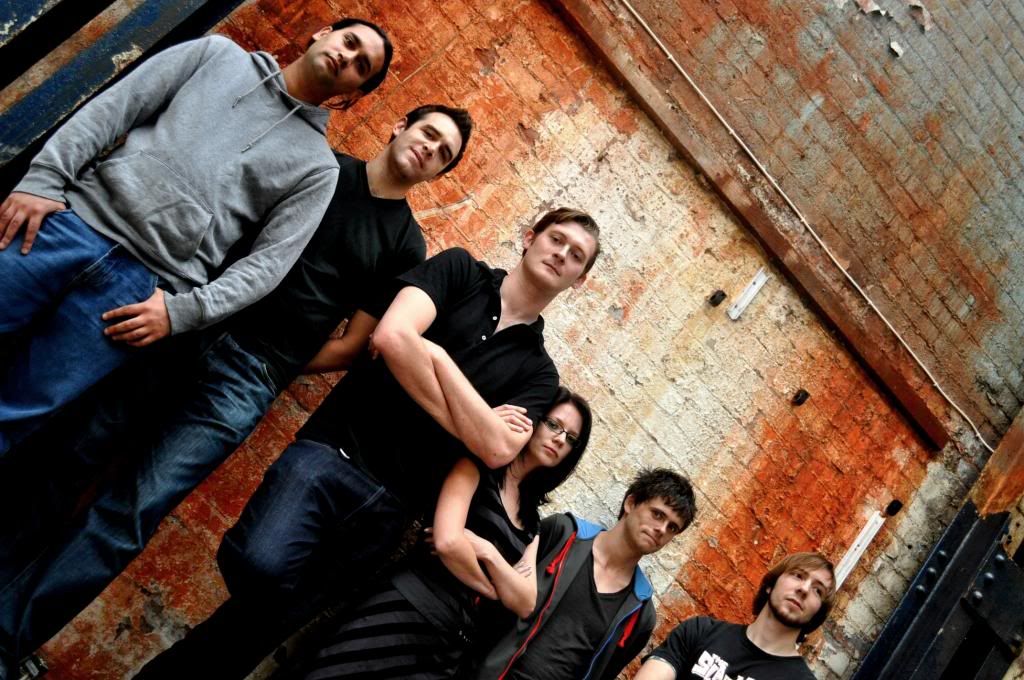 Pre-order the album here.
Check out previews of the album tracks here.
Posted by jamie on Jan 16, 2013
Sonic Boom Six have released the video for Keep On Believing, the second single from their most recent album Sonic Boom Six.
Barney says:
"..seeing as it is the world darts championships at the moment, we thought we'd do a special SB6 tribute to the fine sport. .  and an extra special thanks to the legend Jim Bowen for being such an awesome pro and showing us how it's done."
Laila says:
"Personally this is my favourite song off the album as it reminds me of when I got into music and bands and how passionate and positive music can make you feel."
The single includes the exclusive B-Sides Let's Push Things Forward ( a studio version of The Streets cover version SB6 unveiled on their recent headline tour) and the Capitol 1212 remix of Keep On Believing.
See Keep on Believing the video here.
Get Keep on Believing the single here.
Keep on Believing is released as a digital download on the 11th February through Xtra Mile Recordings. Tracklisting is as follows:
1. Keep On Believing (Single Mix)
2. Let's Push Things Forward
3. Keep On Believing (Capitol 1212 remix)
Sonic Boom Six are off on tour during January and February.  Full dates are as follows:
The Blackout UK dates, with SONIC BOOM SIX as main support
January 2013
Fri 18: Hobo's, Bridgend
Sun 20: King Tuts Wah Wah Hut, Glasgow
Mon 21: O2 Academy 2 Newcastle, Newcastle
Tue 22: Liquid Room, Edinburgh
Wed 23: Jan 2013 18:30 - HMV Institute Birmingham, Birmingham
Fri 25: Electric Ballroom, London
Sat 26: HMV Ritz, Manchester
SONIC BOOM SIX headline dates:
February 2013
Friday 8: Swindon, The Furnace
Saturday 9: Guildford, The Boileroom
Sunday 10: Brighton, Audio
Monday 11: Sheerness, The Ivy
Tuesday 12: Southend, Chinnery's
Wednesday 13-Feb-13 - Milton Keynes, The Craufurd Arms
Friday 15: Rugby, Vault
Saturday 16: Sheffield, Corporation
Sunday 17: Preston, 53 Degrees
Tuesday 19: Carlisle, The Brickyard
Wednesday 20: Aberdeen, Tunnels
Friday 22: Belfast, Stiff Kitten
Saturday 23: ROI, Dublin, Fibber Magees
Monday 25: York, The Duchess
Tuesday 26: Scunthorpe, The Baths Hall
Wednesday 27: Stoke-on-Trent, The Sugarmill
Posted by jamie on Dec 7, 2012
The Caroloregians
Fat is Back: Do the Dog, 2012
7th December, 2012
Jamie
You can't top a pleasant surprise, I guess.  Of course, before discovering this charming little disc, everything was already right with the world, but, to start the day by stumbling across a new CD by a new (to us) reggae band can on only be a good thing, and to be this tickled, out of the blue, with a new release like this just makes a good thing better.
It's one of the most fascinating things about music, about life, even, that such wonderful things can exist for so long, completely undetected.  Without it, life's just fine, and yet discovering something new that I never even knew I didn't know about is the sort of thing that makes every day more exciting.
The Caroloregians call their booty-shaking take on dance-floor friendly reggae "deep fried": musically speaking, I'll have to admit I've got absolutely no idea what that means, but, in a figurative sense, it sort of works: it's new and different, it's crispy around the edges, and it's dirty but it feels good.
On Fat is Back, that deep-fried reggae fuses beautifully, in a down-and-dirty, rhythmic way, with crunchy, party-friendly funk and soul.  It's knock-you-backwards smooth, and oozes the sort of chemistry usually found between musicians who've played in covers bands together for years, the opposite of what's gone on here: a combination of guest musicians organically, and rapidly, growing out of a three-piece reggae studio project.  That in itself is truly startling, and the end result is wonderful: a knowingly, deliberately, infectiously hip-shaking party-starter of a deep fried reggae record, with juicy, succulent melodies, crunchy soul licks, a kickin' funk groove and dirty, deep-fried everything.
The Caroloregians' Fat is Back is out now on Do the Dog.
Stand-out tracks:
Donna Donna
Back in the Day
Noonish
Mokka 36
Biscuit Serenade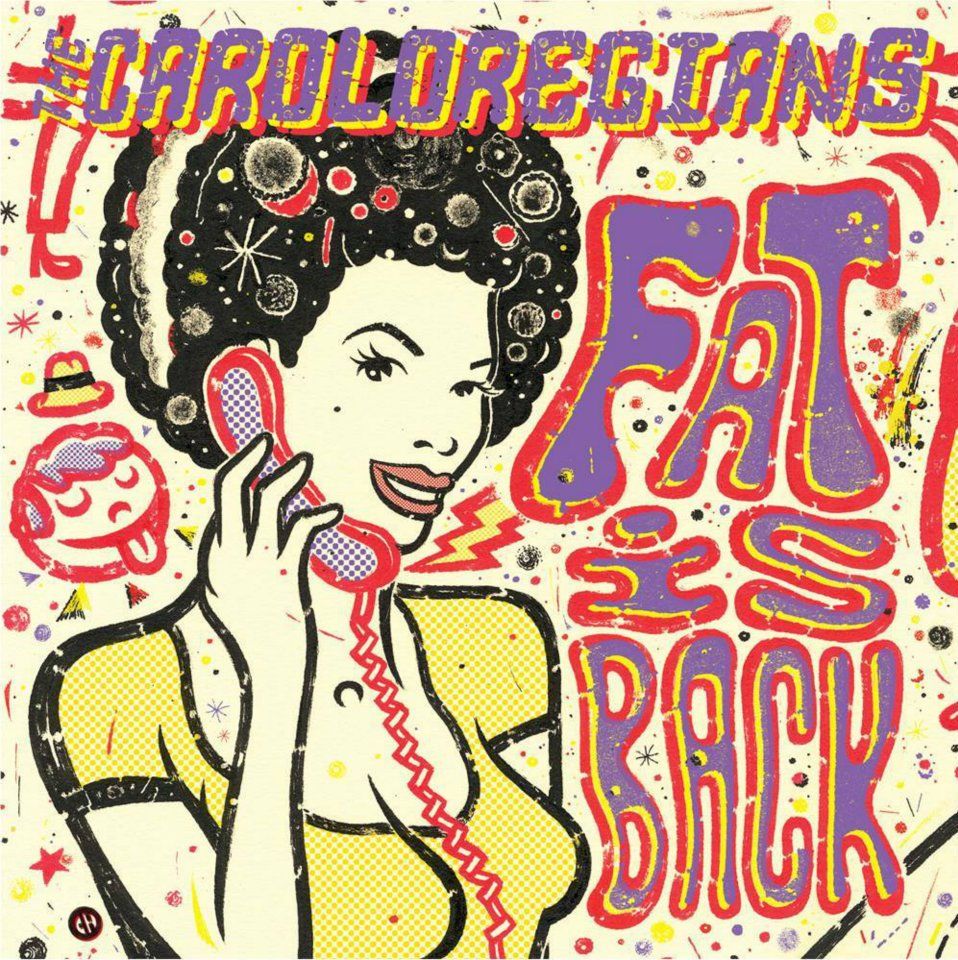 Posted by jamie on Nov 6, 2012
Random Hand, Our Time Down Here, Claypigeon
Barfly, Camden
26th October, 2012
Jamie
Our apologies to Bored of Justice: the dash across town for tonight's punk show wasn't quick enough for us to catch them.  We did manage to gather a few reports, which suggested they impressed as usual.
I sneaked in at the back of a dark, dusty upstairs room in which the early-downs have made a little circle for themselves to throw their bodies around to Claypigeon's boisterous, rat-a-tat punk rock.  Claypigeon are in typically high and irreverent spirits, peppering us with quick-fire vocals and riffs and leading some gloriously rowdy sing-alongs: it's always fun to watch a new room discover Claypigeon for the first time: they're as idiosyncratic as they are irresistible, and all of that eagerness to get involved can make things difficult when they're so impossible, apparently even for themselves, to predict, but it makes for some wonderfully enjoyable chaos, and, of course, their songs are excellent.
By contrast, Our Time Down Here are a first-watch for me.  It appears I'm in the minority on that: I've heard lots of excited hype.  Our Time Down Here do it justice: theirs is an epic take on melodic pop-punk, embellished with gang and backing vocals, enormous riffs and a rhythm section to match, and almost unparalleled vocal sincerity.  It's not ground-breaking, but the sheer scale of what they've set out to do is laudably ambitious, and they deliver it with aplomb.
Random Hand take a good night and make it great.  These guys get better and better and better with every show, and, as they've become fond of saying, they've played more than a thousand.
Tonight they're in rude health, dominating this bemused, sweat-soaked attic room with bombastic, belligerent energy as they stomp their way through their set with vigour at a scale that turns every single track in to an anthem: in this environment, Scum Triumphant, Anger Management and Not a Number, resonate more powerfully than ever.  In front of Random Hand, the room descends in to a sweaty, frantic tumult of flying bodies, bouncing, flailing feet, and pumping fists.
Amidst all of this, they gleefully take the fleeting opportunities to regale us with a tiny moment of wry, sharp writ, before plunging us back in to their brilliantly brutal skacore romp.  It feels like only moments after it began, we're shattered, spent.  Exhilarated, exhausted, gasping, and grinning like monkeys.  By the end we tangle together to carry Theo around the room in celebration of his birthday.  He's held up, until the end, just, and then it's lights-on time.
Posted by jamie on Oct 27, 2012
Gecko
The Old Queen's Head, Islington
25th October, 2012
Jamie
It's been too long since we watched Gecko, and, clearly, they've been busy bees while we've been apart.
They're still cheeky chappies playing upbeat, semi-acoustic pop with their tongues firmly in the cheeks of their cheery faces (try saying that fast), and, if Islington's Old Queen's Head is anything to go by, they still have an endearing penchant for idiosyncratic boutique pubs*, but, following their summer jaunt around the festival circuit, they've gained a following, and a swagger, albeit with a distinctive spring, that their tunes and
Tonight they've pulled in an awesome crowd.  Look at this**.  They're clearly loved by their new friends, and rightly so, of course, and get a suitably loud and beery welcome as they shuffle on to a little stage in the corner of a big, empty upstairs room that looks and feels like a posh Granny's boudoir.
Quickly, Gecko get started with Got Science, and hop, skip and jump through their way through a set that's packed with their biggest hits and wry, insouciant wit.  In front of them, we bob and sweatily sway to their distinctive, uplifting songs, affably, drunkenly yelling back the chorus to Falling Down and playing gamely along with Will's audience-participation bit in The Library, now expanded to include whispering and crouching down around the floor.
Gecko are a four-piece these days, without the female vocals, despite Perkie's presence in the front rows, joining us in skipping giddily in a ring to Safest Bet before Gecko come close to finishing their set with Feeling My Way and Guanabana Juice.
A jobsworth sound man, to the chagrin of the whole room, insists the night's over when we al know full-well that Pigeon is coming as an encore.  It becomes clear that he's not having it, so Will and Gabe have us all outside to perform it acoustically: this ought to go down as one of those wonderfully spontaneous moments we'll remember forever as perfect little examples of exactly what made us fall in love with music in the first place: it's a force of nature, and can't be controlled.  Outside is freezing, but this is a beautiful one-off music moment, and the perfect end to a lovely evening.
Enjoy re-living that with Katy's picture of it here.  Standard.
*although this is Islington.  What do you expect, after all?  Even the Tesco feels posh.
**That's me waving at Gabe.
Posted by jamie on Oct 24, 2012
Detached
Finding Time: self-released, 2012
24th October, 2012
Jamie
When Detached hit the road, to promote new record Finding Time, they did so with a typically no-nonsense statement:
"We released our debut Album 'Finding Time' on the 23rd August 2012 and now we are off to Europe in November to promote it. Nice and simple like bangers and mash."
On this, their first full-length album, Detached, of course, are just as up-front.  Instead, Finding Time gets straight down to business: it's old-fashioned party-starting ska-punk at its very best, raucously, joyfully, irresistibly anthemic, and unashamedly direct.
Finding Time has all the satisfying grit that made 2010's None the Wiser so enjoyable, and extra energy and excitement: it's rough around the edges, sure, but that only serves to soften you up before Detached slap their giant-great tunes on you, and, make no mistake, these are some of the biggest you'll get anywhere right now.
From the dirty great bassline and ominous, chuntering riffs of the excellent Keep Smiling, or the delightfully harem-scarem sprint through the fists-in-the-air ska-punk melodies of Opening My Eyes, all the way to the album's enormous climax at the gloriously epic Black Cat and the similarly enormous, and even more brilliantly dark final track Maybe Next Time, this is a wonderfully addictive record.  I found myself wishing that everyone I know knew this record by heart, just so we could enjoy shouting ourselves hoarse to it together: it's that anthemic, and that boisterously, blisteringly, belligerently raw.  You will run out of breath while you're enjoying this, and you will ruin your voice, but you'll want to, and you'll be pleased about it afterwards.  Pleased about it in a panting, sweaty knot on your bedroom carpet, most likely, with pins and needles in your ankles from where your head's landed.  In a good way.
This sophomore release finds Detached in mature, confident mood, with still more body to their sound and more depth and substance to their arrangements.  They've got all the strength they've always had, but the melodies here are unpacked, explored and then allowed to grow and express themselves, embellished by the strength and sincerity of some excellent musical performances as they sprawl over the songs, climbing over enormous rhythms and between compelling three-part vocals.
Finding Time is compelling listening: an impressive and interesting step forward for Detached, and good, honest, dirty-faced fun.
Stand-out tracks:
Keep Smiling
Double Vodka & Regret
Forge & Hammer
Pretty Shitty City
Maybe Next Time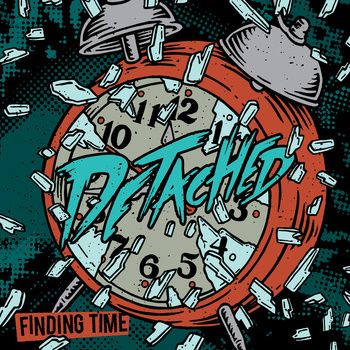 Posted by jamie on Oct 24, 2012
Brighton Punx Picnic are doing this on 17th November.  It's got Anti-Vigilante, Clay Pigeon, Skub Zero and Tyrannosaurus Alan.  AND it's in aid of Black Fish!
Black Fish are an international marine conservation organisation on a mission to change attitudes towards our precious oceans and to work on protecting the unique life within them.
See it all on facebook here.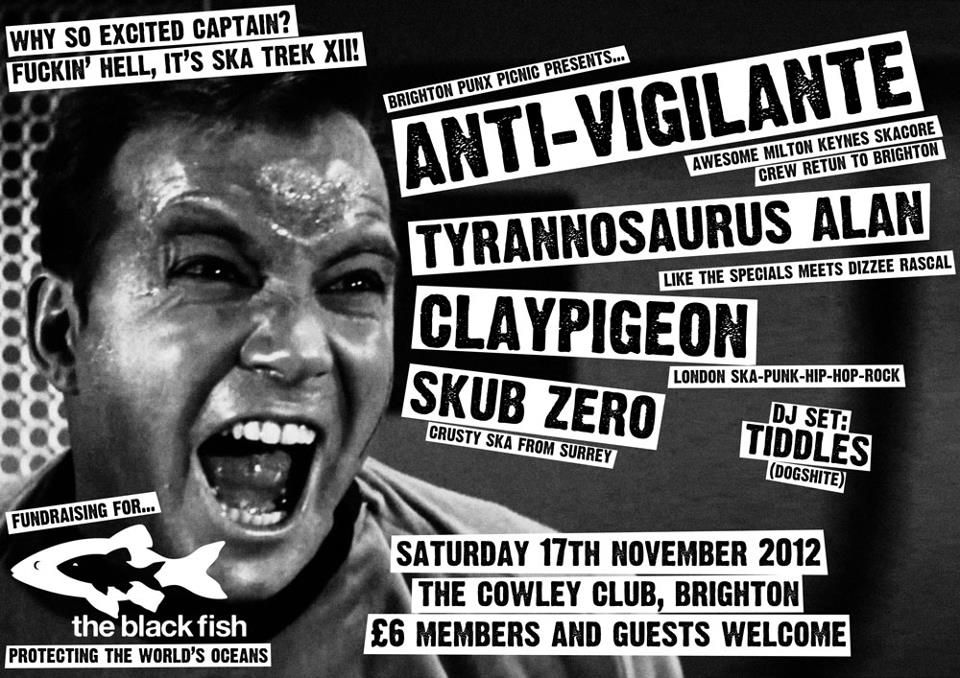 Posted by jamie on Oct 15, 2012
Sonic Boom Six
Sonic Boom Six: Xtra-Mile Recordings, 2012
13th October, 2012
Jamie
It's part of the fun, when you love Sonic Boom Six, that you don't know what to expect.  You can rely on a few things, of course, but the only truly safe assumption is probably that one should expect to be surprised.  Well, surprised and amazed.
So restlessly, frustratedly, endlessly creative are they, that the old tag about mixing musical genres together long went out the window for anyone who seriously wants to credibly say anything about this lot: such is their ability, their range of influences, their that the punk-with-rap, or townie-core, nonsense never came close to summing up what Sonic Boom Six were about, and becomes more inadequate with everything they do.
They've been out on their own, in a musical sense, for some time now, and, while was never really appropriate to try to glibly squeeze their music in to a category or two, Sonic Boom Six have continued to evolve, to broaden, to redefine their sound so much that it almost feels like they're racing against their own shadows.  That they've come home first every time ought to be enough to set them amongst the most important artists currently playing music.  That they've achieved that, and, with every release, surpassed themselves in the quality of their music, and set the standard still higher for everyone else, is little short of incredible.
Most remarkable of all, is the fact that, for anyone with any knowledge of Sonic Boom Six, none of this should be news.  It's just what they do.
On Sonic Boom Six, though, there is a new and very real sense that something new has changed.  This is a first full album to be written without Ben Childs, and, in that respect, we're now looking at a very different band.  They're not the sort to look back, seeing this, instead, as an opportunity, and Sonic Boom Six (the album) develops and celebrates some of the less prominent aspects of Sonic Boom Six's sound, and, inevitably, chucks in a few more for good measure.
Contrary to what's apparently a surprisingly popular belief, "they've always been mixing in some elements of electronic music" (well said, Coenie), but they're more prominent here than they've been before.  We watched Sonic Boom Six in Milton Keynes, new guitarist James Routh told one of our gang about what he wanted to bring to Sonic Boom Six:
"I'm all about basslines that go right through you, and dubstep that fucks you up".
We saw that push to the fore when the Boom played this set at the Monto Water Rats, and it's here, now, on record.  The wobs are bigger than they've ever been on record before, and their samples are more prominent more often.
The basslines do, indeed, go "right through you", most notably on S.O.S (State of Shock).  Here, Kerrang! FM's  Matt Stocks makes his recorded debut, doing his War of the Worlds bit, in amongst some sombre trumpet lines, eerie samples, a reggae breakdown and some wonderfully Barney Barney vocals.  It's got "electronic elements", but it's still, obviously, very Sonic Boom Six: think the Specials' Ghost Town, re-imagined for the twenty-first century, spliced with the Boom's own Strange Transformations, given a spooky new twist and natty little riff and you're most of the way there.
Put all of this together, and you've almost got a nice little microcosm of the album Sonic Boom Six.  Inevitably, though, there's more to it: the vocoder appears on second single Virus, and, in The High Cost of Living, a piercing, open-throat metal scream pierces the wob-wob-wob and, almost immediately, leads to a poignant, reggae horn melody and Laila's top notes, so delicate it's like her voice is a flute played by a fairy.  Oh: and the choruses are bigger than they've been since the anthemic September to May.
That all of this holds together seamlessly is testament to the quality of the songwriting and musicianship, and it means, while listening, certainly at first, you almost won't notice exactly how much is going on or how good this record actually is.
Sonic Boom Six pulls together everything that's good about urban music in the 21st century, and puts it in to one refined, polished piece, bristling with visceral punk-rock energy and unflinching honesty.
In trademark style, Sonic Boom Six addresses current and real issues with chippy, succinct, uncompromising wit, and the move to major Xtra Mile recordings hasn't taken any of the edge off.  On this new record, like all the others, they tell life just how it is, hitting the nail on its proverbial head in a way that's reassuring where you already agree, and persuasive and engaging if you hadn't thought of it yet.  As ever, the observations are remarkably astute, and delivered with directness and positivity.
The beautifully succinct "the story should be why the hell was he there in the first place?" in Gary Got a Gun, resonates more than most, as is " it's spiteful extremists pissing on the chips of the silent majority" (For the Kids of the Multiculture).  When they scan together, some of these are a work of art.  My personal favourite, Flatline (this album's Danger! Danger)! offers the sprightly I guess the big society is sat on the sofa, while I'm avoiding kids with baseball bats in a nova.  Real life can't ever have been more charmingly set to rhythm and rhyme.  I could keep quoting, but instead let me urge you to dive in and discover your own favourites.
This is the sound of the new Sonic Boom Six now fully established in their new identity, and confidently embracing the possibilities that changes have offered to their sound and scope.  It's them, on a stick, but they've boldly gone further than even they have gone before, and in doing so, they have again succeeded not just in raising the bar, but in going bigger and better than we'd dared to dream.
This, and the extra exposure, will surely bring in new admirers in their legions, but there's more than enough in this record of you've been here all along.  That "core message and philosophy" that Laila said the Boom were so keen to protect, if anything, is stronger than ever.
Stand-out tracks:
For the Kids of the Multiculture
S.O.S (State of Shock)
Who Will Survive (and What Will be Left of Them?)
Keep on Believing
Karma is a Lady
Posted by jamie on Sep 24, 2012
Arrowcat
Dublin Castle, Camden
18th September, 2012
Jamie
"Err, I was gonna say..", said Alex, almost bashfully, "you can come as close as you want..".
It's my first time watching Arrowcat, and I'm excited for it: that their entrance is initially understated, that doesn't do anything to diminish the excitement.  It sort of feels like I must be the only Arrowcat virgin in here, but everyone who has watched them is just as psyched: Arrowcat have brought their own crowd tonight, and the party arrived with them.
The room takes one collective step forward on Alex's instruction, and the band share a little grin.  It's not like they're actually shy, really, but theirs is an unflustered, almost nonchalant sort of self-assurance, and it's quietly, calmly assumed control of proceedings.
They're quickly in to their stride: their songs are drawn-out, bluesy, reggae songs that indulge all their dirtiest urges to rock out at every opportunity: it means that catchy little pop songs all of a sudden come over all progressive, epic, even.  It feels almost cheeky, but Arrowcat pull off the trick effortlessly, and instantly we're hooked.
A new song "for the time being" called New Reggae appears between favourites London Sky and Pirate Song, and a conga, inevitably, breaks out during Modern Ways.  Perry's taken his wireless bass for a walk more than once already, but can't resist starting the conga off, and the whole room ends up following itself around like a giddy, sweaty, cidery snake careering in leary circles around the dimly lit room.  It's as fun as it sounds, and slightly weirder.  Another new song appears before they finish, for the first time, with Leviathan, and then again with another rendition of London Sky: there's extra time as one band haven't shown, and so London Sky gets played again, and dedicated to another guy called Jamie, who's celebrating his birthday on stage by the end.
Arrowcat have effortlessly charmed us all in a short, sweet, silly set, and literally led us all on a merry dance.  They're a must-watch.
Posted by jamie on Sep 20, 2012
One man ska explosion Robb Blake (Whitmore) is off on tour.  It starts tomorrow.  It's on facebook here.
Here are dates:
SEPTEMBER 2012
21st Winchester Gate, Salisbury (acoustic)
OCTOBER 2012
5th The Roebuck, Sixpenny Handley (acostic & 1 man ska)
6th The Public Rooms, Bodmin (1 man ska)
14th Salisbury Arts Centre, LUNCHTIME! (acoustic)
NOVEMBER 2012
3rd The Ale House, Salisbury (1 man ska & Intercepteurs) TBC
9TH The Winchester Gate (Gazibo)
11th Gullivers, Manchester
16th The Duchess, York (Gazibo)
DECEMBER 2012
14th Winchester Gate, Salisbury (Intercepteurs
22nd The Ale House, Salisbury (Gazibo) TBC
31st ALTAR CLUB